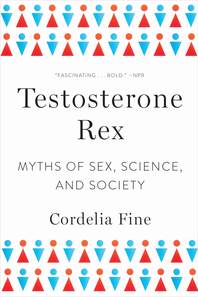 Testosterone Rex
Myths of Sex, Science, and Society
16 February 2018
Territory Rights — Worldwide including Canada, Singapore and Malaysia, but excluding the British Commonwealth.
Description
"Beliefs about men and women are as old as humanity itself, but Fine's funny, spiky book gives reason to hope that we've heard Testosterone rex's last roar." —Annie Murphy Paul, New York Times Book Review
Many people believe that, at its core, biological sex is a fundamental force in human development. According to this false-yet-familiar story, the divisions between men and women are in nature alone and not part of culture. Drawing on evolutionary science, psychology, neuroscience, endocrinology, and philosophy, Testosterone Rex disproves this ingrained myth and calls for a more equal society based on both sexes' full human potential.
Reviews
"An important, yet wickedly witty, book.… Pressingly contemporary, it's the ideal companion read to sit alongside The Handmaid's Tale and The Power." — judges, 2017 Royal Society Insight Investment Science Book Prize
"[A] witty corrective." — Barbara Kiser, Nature, "Best Science Picks"
"Testosterone Rex is a debunking rumble that ought to inspire a roar." — Guardian
"Totally convincing, even life-changing.… The expression 'essential reading for everyone' is usually untrue as well as a cliché, but if there were a book deserving of that description this might just be it." — Antonia Macaro, Financial Times
"Graced with precisely focused humour, the author makes a good case that men and women are far more alike than many would claim. Feminist? Possibly. Humanist? Certainly. A compellingly good read." — Professor Richard Fortey, author of Earth: An Intimate History
"Convincingly and entertainingly demonstrates that, despite stereotypes, such characteristics as risk-taking, competitiveness and nurturing are not 'essential' to one sex over the other and cannot be blamed for the lack of equality between males and females in contemporary society." — Clara Moskowitz, Scientific American
"Cordelia Fine's Testosterone Rex: Myths of Sex, Science, and Society does the public service of deconstructing the biological and societal tenets on which the continued inequality of the sexes is largely founded.… Using humor and her uniquely accessible academic writing style,… [Fine disrupts] what we think we know about gender difference." — Katie Klabusich, Rewire
"Fine has done us a service by reminding us of the dangers of misapplications of research to policy." — Sheri Berenbaum, Science
"A provocative and often fascinating book." — The Economist
"Exciting, eloquent, and effective. Deftly weaving together research from anthropology, biology, neuroscience, and psychology, Fine shows exactly why and how the myth of testosterone and maleness plays out and why it is false." — Agustín Fuentes, professor of anthropology, University of Notre Dame
Awards
Shortlisted — Orwell Prize, 2018
Winner — Royal Society Insight Investment Science Book Prize, 2017