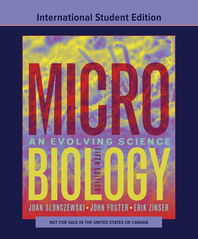 Microbiology
An Evolving Science
Fifth International Student Edition
7 March 2020
Territory Rights — International Edition: World excluding the USA, its dependencies, and Canada.
Description
A microbiology text as dynamic as the field it represents.
Striking a perfect balance, the Fifth Edition helps instructors convey exciting research in this rapidly evolving field while also motivating students to learn the fundamentals amid an overwhelming amount of information. Engaging examples, abundant eye-catching figures, updated genetics and genomics content by new coauthor Erik Zinser. An updated Smartwork5 course and new active learning resources provide flexible options for high-quality assessment in and outside of class.
Digital Teaching and Learning Tools
Smartwork5
This easy-to-use online assessment tool helps students become better problem solvers and come to class prepared. It offers a variety of interactive question types, extensive answer-specific feedback, instructor flexibility, and LMS integration.
Interactive Ebook
An enhanced reading experience. As active readers, students can take notes, bookmark, search, and highlight. Instructors can add notes for students, and all readers can sync across devices and read offline.
Animations and videos
Over 45 animations based on art from the textbook bring the most important microbiology concepts to life. Instructors can assign them with assessment in Smartwork5, and students can access the animations right from the ebook.