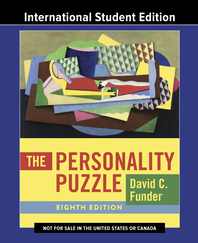 The Personality Puzzle
Eighth International Student Edition
November 2019
Territory Rights — International Edition: World excluding the USA, its dependencies, and Canada.
Description
Current, Accessible, Engaging—the best learning tool for personality psychology.
David Funder's masterful writing, his ability to explain important ideas and new research in a compelling way, and the new addition of InQuizitive, Norton's adaptive quizzing tool, make The Personality Puzzle the best learning tool for students—all at an affordable price. The Eighth Edition includes a new chapter on relationships and work, and new coverage of replication and open science issues.