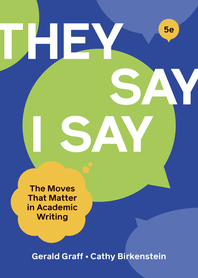 "They Say / I Say"
Fifth Edition
3 December 2021
Description
The little book that demystifies academic writing, reading and research.
Used and loved by millions of students for its lively and practical advice, this is the book that demystifies academic writing and shows how to engage with the views of others. Extensively revised in response to feedback from our community of adopters, this edition of "They Say / I Say" is an even more practical companion for students, featuring a new chapter on research, new exercises, expanded support for reading and an expanded chapter on Revising.
Digital Teaching and Learning Tools
InQuizitive for Writers
InQuizitive delivers a game-like approach to practicing sentence editing and working with sources. Adaptive activities and explanatory feedback, with links to the handbook, provide additional practice in areas where students need more help.
Tutorials
Easy to assign and intuitive to use, these online tutorials give students hands-on practice recognizing the rhetorical moves and using the templates to begin writing themselves.
Enhanced EBook
Links between chapters and tools for searching, annotating, and bookmarking information make the digital version as simple to navigate as its paper counterpart. Norton ebooks can sync across devices and be read offline.
They Say / I Blog
The blog is a regularly updated source of contemporary readings on the same topics covered in the book and provides a space to join in the conversation. Readings are accompanied by a headnote, writing prompt, and response questions.