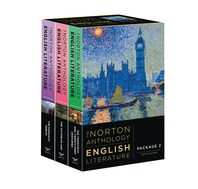 The Norton Anthology of English Literature
Tenth Edition
Volume:Package 2: Volumes D, E, F
6 December 2018
MORE COMPLETE MAJOR WORKS. MORE CONTEMPORARY WRITERS

The Tenth Edition introduces six much-requested contemporary writers, all global in reach—including Chimamanda Ngozi Adichie, Kazuo Ishiguro and Hilary Mantel. There are also five NEW complete longer works, among them Shakespeare's Othello and Swift's Gulliver's Travels. In response to instructors' requests, the editorial team has also added dozens of other NEW selections throughout the book.

25 NEW VIDEO MODULES TAKE STUDENTS BEHIND THE SCENES

Designed to enhance classroom presentation, the 25 NEW video modules were conceived of and are narrated by the anthology editors themselves. The modules, available via the NAEL Archive give students a fascinating window into the literary past and present, whether through a look at rarely seen books and manuscripts; a guided tour of the settings where authors brought literary characters into being; interviews with living authors; or a teacher-to-teacher tutorial on conveying a literary form or tradition.

7 NEW LECTURE-LENGTH CONTEXTUAL CLUSTERS EMPHASISE KEY THEMES

Designed to be teachable in a class period or two, these thematic groupings of short texts focus on cultural issues and literary forms and movements. The Tenth Edition strengthens this popular feature with seven NEW clusters, including "Talking Animals" and "Print Culture and the Rise of the Novel".

THE NAEL ARCHIVE—HOME TO DYNAMIC AND EASY-TO-ACCESS FREE RESOURCES

Bringing the texts and contexts of English literary history to life in the classroom is the goal of every instructor. To help achieve that goal more easily and efficiently, the Tenth Edition offers the NEWLY reconceived NAEL Archive, a comprehensive suite of rich and imaginative materials, including supplemental readings, videos, images and more.

THE APPARATUS YOU TRUST—EXTENSIVELY RETHOUGHT FOR TODAY'S STUDENTS

For over 50 years, the Norton Anthologies have set the standard for editorial help that is right for undergraduates. In the Tenth Edition, the editors have refreshed the apparatus to reflect both NEW scholarship and changing classroom interests. Introductions and headnotes have been revised; hundreds of annotations and glosses fine-tuned; and bibliographies carefully updated—all with the goal of helping students better understand the text, without telling them what to think.