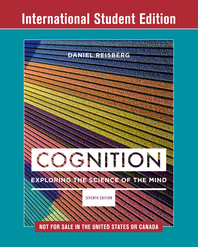 Cognition
Exploring the Science of the Mind
Seventh International Student Edition
December 2018
Territory Rights — International Edition: World excluding the USA, its dependencies, and Canada.
Description
A "big picture" focus on the science and applications.
One of the most successful texts ever published on its subject, the new Seventh Edition focuses on the insights and ideas that drive the field and supports student learning. Three exciting features—a new pedagogical programme based on the "testing effect", a comprehensive, author-created instructor's guide, and ZAPS Cognition Labs—deliver a dynamic, interactive introduction to cognitive psychology today.