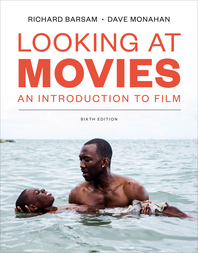 Looking at Movies
Sixth Edition
January 2019
THE MOST ACCESSIBLE AND MOST ENGAGING GUIDE TO FILM ANALYSIS

Starting with the familiar and building in complexity, this text is unrivalled in teaching students how to critically analyse and respond to films. Each concept is supported by intelligent media resources throughout. Thoroughly revised chapters on mise-en-scene, cinematography and editing make the book more accessible and engaging than ever before.

A BOOK THAT IS MADE OF MEDIA

The text isn't simply supplemented by the best media package; it is the most thoroughly media-driven introduction to film available. Video tutorials, interactives, animated illustrations in the ebook and more are as crucial to the book's pedagogy as the words on the page. Plus, all the media elements are authored by and created under the supervision of the book's expert author, Dave Monahan.

NEW: INQUIZITIVE —A GAME-LIKE, MEDIA-RICH, INTERACTIVE QUIZZING TOOL

Students in an introductory film course are already motivated to watch movies and to discuss them with their classmates. But they sometimes struggle to learn the essential terms and concepts that make those conversations more analytical and interesting. InQuizitive, an adaptive learning tool that is NEW to the Sixth Edition, gives students the motivation they need to study and master this material.