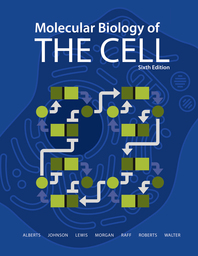 Molecular Biology of the Cell
Sixth Edition
18 November 2014
CRITICAL TRAINING FOR THE NEXT GENERATION

The next generation of cell biologists, molecular biologists, biophysicists and physicians can depend on this authoritative text. Students progress to scientists with this text's comprehensive coverage, clear writing style, beautiful illustrations and emphasis on the latest discoveries in the field of cell and molecular biology. Numerous features promote scientific and research-based thinking.

EXTENSIVELY PEER REVIEWED FOR ACCURACY AND CURRENCY

A chapter-by-chapter review by many of the world's leading experts ensures accuracy and currency. Important new discoveries are incorporated in a logical and cohesive narrative that provides a conceptual framework for cell biology. New sections include material on new RNA functions, advances in stem cell biology, new methods for studying proteins and genes and for imaging cells, advances in the genetics and treatment of cancer, as well as timing, growth control and morphogenesis in development.

UNMATCHED ART PROGRAMME HELPS VISUALISE THE WORKINGS OF THE CELL

Each of the 1600-plus figures in this textbook has been specifically designed to illustrate a central concept. This unique illustration programme has been enhanced in the Sixth Edition. Protein structures better illustrate structure–function relationships, icons are simpler and more consistent within and between chapters, and micrographs have been refreshed and updated with newer, clearer or better images. More than 170 narrated videos, covering a wide variety of topics, illuminate subcellular processes and help students review key concepts.

THE PROBLEMS BOOK HELPS STUDENTS SUCCEED

Help students appreciate the ways in which experiments and simple calculations can lead to an understanding of how cells work. Each chapter reviews key terms, tests for understanding of basic concepts and poses research-based problems that introduce the experimental foundations of cell and molecular biology. The Problems Book has been designed to correspond with the first twenty chapters of Molecular Biology of the Cell, Sixth Edition.