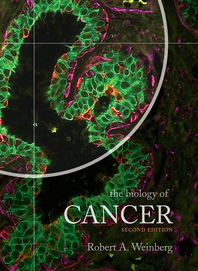 The Biology of Cancer
Second International Student Edition
24 May 2013
Territory Rights — International Edition: World excluding the USA, its dependencies, and Canada.
AN IN-DEPTH, RESEARCH-FOCUSED PRESENTATION OF THE SCIENCE

This text is written by one of the preeminent cancer biologists of the last 40 years. The information within unfolds through the presentation of key experiments. This gives readers a sense of discovery while providing insights into the conceptual foundation of modern cancer biology.

AN EXTENSIVE, DETAILED ART PROGRAMME PROMOTES DEEP CONCEPTUAL UNDERSTANDING

Research data, by its very nature, is a visual medium. The art programme emphasises this fact to help readers truly understand key principles. Full-colour figures present the latest research in vibrant and precise detail. These figures are accompanied by equally detailed figure captions.

PREPARES STUDENTS TO READ PRIMARY-RESEARCH ARTICLES

Cancer biology is a rapidly advancing field, with new discoveries constantly appearing in the primary literature. The text combines a research-oriented approach with a clear, engaging narrative. These elements work together to help students read and interpret data-based information. Additional features further prepare students to read primary-research literature.