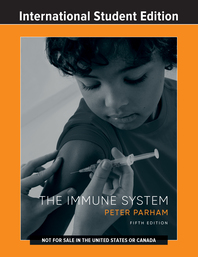 The Immune System
Fifth International Student Edition
1 June 2021
Territory Rights — International Edition: World excluding the USA, its dependencies, and Canada.
Description
A thoroughly updated introduction to immunology, now with powerful online assessment and robust instructor resources.
The Immune System is a concise yet thorough human-oriented introduction to how the human immune system works. It provides an up-to-date presentation of the field, written in an accessible style, replete with relevant medical examples. Plentiful illustrations and micrographs complement and illuminate the explanations. The Fifth Edition is supported by InQuizitive, Norton's award-winning, easy-to-use adaptive learning tool that provides student practice and promotes critical thinking.
Digital Teaching and Learning Tools
Enhanced Ebook
The Enhanced Norton ebook allows you to highlight, bookmark, and take notes while viewing on any computer or mobile device. Clipboard icons in the ebook link to clinical case studies in Case Studies in Immunology. The Case Studies in Immunology ebook comes at no cost with all new print and digital copies of The Immune System.
InQuizitive
An award-winning, easy-to-use learning tool that gives students adaptive practice with immunological vocabulary and concepts. Students get a personalized experience, will retain key concepts, and come to class prepared. Grades can improve when you assign InQuizitive consistently for points.
Interactive Instructor Guide
An all-in-one teaching resource for instructors that want to integrate active learning in their course. Search by chapter, phrase, or learning objective to find book-specific activities, animations with discussion questions, primary literature suggestions, learning objectives, and more.