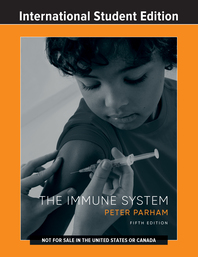 The Immune System
Fifth International Student Edition
June 2021
Territory Rights — International Edition: World excluding the USA, its dependencies, and Canada.
POWERFUL ASSESSMENT DESIGNED SPECIFICALLY FOR IMMUNOLOGY STUDENTS

InQuizitive supports instructors whose students have a wide variety of previous exposure to immunology by specifically addressing the two primary challenges that most students face. Numerous vocabulary-based questions and pop-up definitions for key terms help students learn the language of immunology. Critical-thinking questions, including many that utilise vibrant text images and the animation suite, help students develop a conceptual understanding of immunology. New engaging end-of-chapter and test bank questions have been added by classroom teacher and education researcher, Debby Walser-Kuntz. Additional active learning activities for the classroom are available in the searchable, sortable Interactive Instructor's Guide.

A HUMAN-FOCUSED VIEW OF IMMUNOLOGY THOROUGHLY UPDATED WITH THE LATEST RESEARCH

The Immune System presents the core discipline of immunology through a human lens and at just the right level of detail for undergraduates and health career students. The Fifth Edition includes exciting new discoveries in this rapidly advancing field, while focusing on what scientists know, rather than providing extensive detail on how they know it. This results in engaging, readable chapters that make concepts crystal clear to students.

A SINGLE-AUTHOR VOICE LENDS CLARITY TO EXPLANATIONS AND FIGURES

The Immune System offers a consistent voice and iconography, ensuring that the story of how the immune system works is both engaging and accurate. Author Peter Parham worked directly with an artist to adapt figures from Janeway's Immunobiology to ensure that the figures specifically relate to human immunology. As a result, The Immune System provides clear, coherent figures to aid in learning this highly visual field.