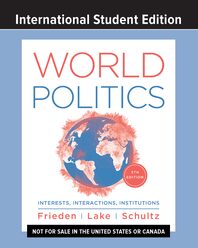 World Politics
Interests, Interactions, Institutions
Fifth Edition
22 February 2022
Territory Rights — International Edition: World excluding the USA, its dependencies, and Canada.
Description
The accessible analytical framework to make sense of global events, and the tools to apply it.
With a framework based on interests, interactions and institutions, World Politics gives students an accessible analytical approach to understand international relations. In the Fifth Edition, two new guest contributors—Stephanie Rickard and Susan Hyde—offer cutting-edge analysis of current issues, including the global coronavirus pandemic and trade war between the United States and China. When assigned with InQuizitive and brand new News Analysis activities, students can apply the framework to global and current events.
Digital Teaching and Learning Tools
News Analysis Activities
These NEW biweekly activities help students apply key course concepts to current issues. Each News Analysis activity includes a link to a contemporary news story and is supported by a suggested activity for class discussion.
Enhanced EBook
Students can take notes, bookmark, search, and highlight. Instructors can add notes for students, and all readers can sync across devices and read offline.
InQuizitive
An award-winning, easy-to-use adaptive learning tool. InQuizitve helps students understand the concepts in international relations and apply the 3 I's framework to real world scenarios.