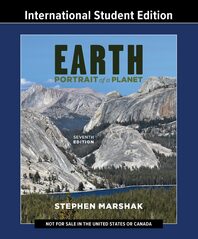 Earth
Portrait of a Planet
Seventh Edition
7 January 2022
Territory Rights — International Edition: World excluding the USA, its dependencies, and Canada.
Description
Marshak geology meets active, virtual learning.
The gold standard text for helping students visualise and understand geologic processes makes hands-on and real-world exploration easier and more impactful than ever, in any course setting. New 3D specimen and digital elevation models, with corresponding Smartwork exercises, allow students to examine specimens and sites as if they were in the field or lab. And new highly visual "Practice What You Know" and "What Can You See?" activities at the end of each chapter and in Smartwork help students synthesise and apply important concepts like a geologist. Thoroughly updated with current events and essential data, the Seventh Edition also reveals the dynamism of geology and how it impacts our lives.
Digital Teaching and Learning Tools
Norton enhanced eBook
Norton Ebooks offer an enhanced reading experience at a fraction of the cost of a print textbook. Embedded 3D models allow students to examine specimens of rocks, minerals, and geologic structures as if they were in the field or lab. Interactive animations, Narrative Art Videos, and links to Google Earth™ "See For Yourself" sites dive into complex concepts and guide students to view the real world as a geologist would. Norton Ebooks provide an active reading experience, enabling students to take notes, bookmark, search, highlight, and read offline. Instructors can even add notes that students can see as they are reading the text.
Guided Learning Explorations
Guided Learning Explorations coach students through key geology concepts and scientific processes through a low-stakes scaffolded learning system. Students receive feedback on every answer as they progress through three stages: foundational concept questions; applied questions featuring geologic data, video and animation clips, and interactive simulations; and exploratory questions that get students thinking like geologists by interpreting real-world sites in Google Earth.
Smartwork online assessment tool
Smartwork is an online assessment tool that helps students become better problem solvers through a variety of interactive question types, book-specific hints, and extensive answer-specific feedback.

Smartwork for the Seventh Edition of Earth includes:

•New 3D model questions. All the NEW 3D models are available in Smartwork questions that allow students to examine and analyze specimens and sites as if they were in the field or lab.

•New "Practice What You Know" questions give students a highly visual way to check their understanding of the chapter material after doing their reading.

•New "What Can You See?" questions build on the "Practice What You Know" questions using Marshak's signature "What a Geologist Sees" artwork and ask students to analyze real-world sites for themselves.

•Visual questions. Using the signature Marshak art, these questions give students the opportunity to sort evidence, rank steps in processes, label geologic features, and ultimately, demonstrate concept proficiency.

•Video questions ask students to watch and analyze Marshak's Narrative Art and Real-World Videos.

•Animation and Simulation questions ask students to manipulate simulations and apply our signature animations to broader ideas in the course.

•Conceptual questions test student understanding of all of the Learning Objectives in the text.

•Reading Quiz questions help instructors hold students accountable for coming to class prepared. These do not have answer-specific feedback.

•Geotours questions, based on our Geotours Worksheets, allow instructors to incorporate Google Earth™ activities into their assignments. These questions do not have answer-specific feedback.