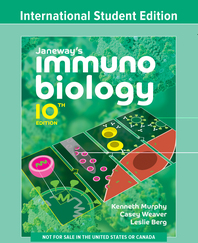 Janeway's Immunobiology
Tenth Edition
12 July 2022
Territory Rights — International Edition: World excluding the USA, its dependencies, and Canada.
Description
The gold standard, with the most up-to-date research and resources.
Immunobiology is the premier text for immunology at the advanced undergraduate, graduate and medical school levels. Beginning students appreciate the book's clear writing and informative illustrations, while advanced students and working immunologists value its comprehensive scope. Every chapter is reviewed with experts to ensure accuracy, authority, currency and depth. The Tenth Edition is supported by InQuizitive, Norton's award-winning, easy-to-use adaptive learning tool that helps students learn immunological terms and apply them conceptually.
Digital Teaching and Learning Tools
InQuizitive
An award-winning, easy-to-use learning tool that gives students adaptive practice with immunological vocabulary and concepts. Students get a personalized experience, will retain key concepts, and come to class prepared. Grades can improve when you assign InQuizitive consistently for points.
Enhanced Ebook
As active readers, students can take notes, bookmark, search, and highlight. Instructors can add notes for students, and all readers can sync across devices and read offline.
Case Studies in Immunology
For the first time, Janeway's Immunobiology comes with access to Geha and Notarangelo's Case Studies in Immunology ebook at no additional cost.