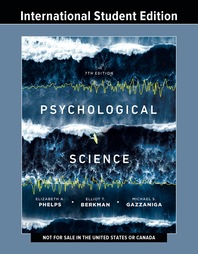 Psychological Science
Seventh Edition
1 July 2022
Territory Rights — International Edition: World excluding the USA, its dependencies, and Canada.
Description
New authors bring a winning combination of cutting-edge research and real-world impact.
W. W. Norton is excited to announce that award-winning authors Elizabeth Phelps and Elliot Berkman will bring their ideas and energy to Psychological Science 7e. Our authors are committed to encouraging students to learn and evaluate psychology through the lens of methods, replication and the open science era. Looking beyond the text, Liz and Elliot applied their experience with the introductory psychology course to all aspects of the teaching and learning tools, including InQuizitive's adaptive assessment, new ZAPS 3.0 interactive labs with instructor support, a hands-on approach to visualising brain science through a new interactive 3D brain and exciting new interactive neuron animations. They are committed to introducing students to a more modern view of the field—one that shows the real-world impact of psychology and showcases the work of diverse researchers throughout.