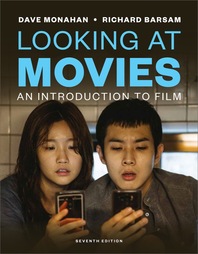 Looking at Movies
An Introduction to Film
Seventh Edition
12 March 2021
Description
Students love watching movies. Give them the tools to understand why.
Building on students' enthusiasm for screened entertainment, Looking at Movies is more successful than any other text at motivating students to understand and analyse what they see onscreen. The Seventh Edition features new and refreshed video, assessment and interactive media, making the book's pathbreaking media programme more assignable and gradable than ever before. Looking at Movies gives instructors all they need to inspire students to graduate from passive watching to active looking.
Digital Teaching and Learning Tools
Interactives
These hands-on tools let students explore and manipulate elements of cinema: sound, lighting, color, composition, and editing.
Tutorials
Tutorials to model analysis, narrated sample analyses of films, and shot-on-film demonstrations of core film concepts—all produced for and exclusive to Looking at Movies. Plus, more than 10 short films, most with director commentary.
InQuizitive
An award-winning adaptive learning tool that's easy-to-assign and integrates with your LMS. Revised and expanded InQuizitive activities for the 7e include new media-rich questions incorporating videos and interactives.
Enhanced Ebook
Students can take notes, bookmark, search, and highlight. Instructors can add notes for students, and all readers can sync across devices and read offline. This ebook brings core cinematic concepts to life with embedded videos and interactives.