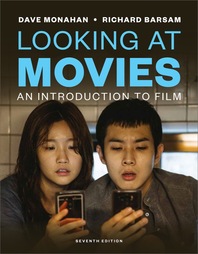 Looking at Movies
An Introduction to Film
Seventh Edition
3 December 2021
The most accessible and engaging guide to film analysis

Starting with the familiar and building in complexity, Looking at Movies is unrivaled in teaching students how to critically analyse and respond to films. Each concept is supported by intelligent video and interactive resources throughout, all of which have been refreshed and revised in the Seventh Edition to be even more useful and engaging for both students and instructors.

A book that is made of media—with a filmmaker, producer, and master teacher at the helm.

The text isn't simply supplemented by the best media package; it is the most thoroughly media-driven introduction to film available, and the reason that the media and text work so well together is that Dave Monahan is the "auteur" of it all. Leading up to the Seventh Edition, Monahan used the entire media package, including InQuizitive, in his own introduction to film course. The revision that emerged from this experience was planned entirely around making sure that the book and media package were seamlessly interwoven and easily assignable. Monahan has updated the media elements and the text in tandem, including revising the text's learning objectives for better cohesion with the media and creating more than a dozen new videos that, along with the interactives, are embedded in both the text of the ebook itself and in new, media-rich InQuizitive questions.

An expanded InQuizitive course, informed by feedback from students and instructors, featuring new media-rich questions

Students in an introductory film course are already motivated to watch movies and to discuss them with their classmates. But they sometimes struggle to learn the essential terms and concepts that make those conversations more analytical and insightful. InQuizitive gives students the motivation they need to study and master this material in advance of discussions and writing assignments. In response to significant input from students and instructors, the Seventh Edition InQuizitive course has been expanded to include more questions that incorporate videos and interactives directly in the question stems and to align closely with the updated learning objectives in the text.