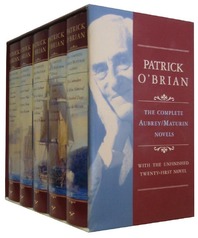 The Complete Aubrey/Maturin Novels
Volume:5 volumes
26 November 2004
Territory Rights — Worldwide excluding Canada and the British Commonwealth.
Description
"The best historical novels ever written."—Richard Snow, New York Times Book Review
Patrick O'Brian's twenty-one-volume Aubrey/Maturin series has delighted generations of devoted fans, inspired a blockbuster film, and sold millions of copies in twenty-four languages. These five omnibus volumes, beautifully produced and boxed, contain 7,000 pages of what has often been described as a single, continuous narrative. They are a perfect tribute for such a literary achievement, and a perfect gift for the O'Brian enthusiast.
Reviews
"No writer alive can move one as O'Brian can. . . . He is the master." — Kevin Myers, Irish Press
"Like John le Carré, [O'Brian] has erased the boundary separating a debased genre from 'serious' fiction. O'Brian is a novelist, pure and simple, one of the best we have." — Mark Horowitz, Los Angeles Times Book Review
""[O'Brian's novels] will outlive most of today's putative literary gems as Sherlock Holmes has outlived Bulwer-Lytton, as Mark Twain has outlived Charles Reade." — David Mamet, New York Times