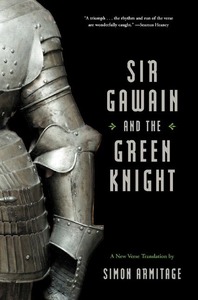 Sir Gawain and the Green Knight
A New Verse Translation
13 November 2007
Territory Rights — Worldwide excluding Canada and the British Commonwealth.
Description
A spellbinding poetic translation of this six hundred year-old Arthurian story of beheading, romance, and the supernatural.
"Promises to drive the green force of the old poem through the Armitage fuse and set it a-buddin' and a-bloomin' for the new millennium."—Seamus Heaney, Nobel Laureate, best-selling translator of BeowulfCom posed in the late fourteenth century by an anonymous author in the English provinces, this remarkable epic has enchanted readers for generations. The work itself is an unparalleled masterpiece of alliteration and rhyme, beginning at Christmastime in Camelot, when the festivities of the Round Table are interrupted by the sudden appearance of a fearful stranger, green from head to foot. A young knight, Gawain, rises to the challenge. What follows is a test of nerve and heart as Gawain travels north to meet his destiny at the Green Chapel in a year's time. Following in the tradition of Seamus Heaney, Simon Armitage, one of England's leading poets, has produced a virtuoso new translation that resounds with both clarity and verve.