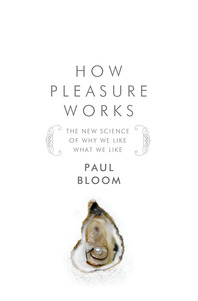 How Pleasure Works
The New Science of Why We Like What We Like
15 June 2010
Territory Rights — Worldwide including Canada, Singapore and Malaysia, but excluding the British Commonwealth.
Description
Yale psychologist Paul Bloom presents a striking and thought-provoking new understanding of pleasure, desire, and value.
The thought of sex with a virgin is intensely arousing for many men. The average American spends more than four hours a day watching television. Abstract art can sell for millions of dollars. People slow their cars to look at gory accidents, and go to movies that make them cry.

Pleasure is anything but straightforward. Our desires, attractions, and tastes take us beyond the symmetry of a beautiful face, the sugar and fat in food, or the prettiness of a painting. In How Pleasure Works, Yale University psychologist Paul Bloom draws on groundbreaking research to unveil the deeper workings of why we desire what we desire. Refuting the longstanding explanation of pleasure as a simple sensory response, Bloom shows us that pleasure is grounded in our beliefs about the deeper nature or essence of a given thing. This is why we want the real Rolex and not the knockoff, the real Picasso and not the fake, the twin we have fallen in love with and not her identical sister.

In this fascinating and witty account, Bloom draws on child development, philosophy, neuroscience, and behavioral economics in order to address pleasures noble and seamy, highbrow and lowbrow. Along the way, he gives us unprecedented insights into a realm of human psychology that until now has only been partially understood.
Reviews
"[A] book that is different from the slew already out there on the general subject of happiness. No advice here about how to become happier by organizing your closest; Bloom is after something deeper than the mere stuff of feeling good." — The New York Times Book Review
"Engaging, evocative… Bloom, a professor of psychology at Yale, is a supple, clear writer, and his parade of counter-intuitive claims about pleasure is beguiling." — Michael Washburn, NPR
"Is there anyone who could resist a book about sex, food, art, and fun? Didn't think so. This book is about all those things, but what turns it from a guilty pleasure into a guiltless one is its deep understanding of philosophy, developmental psychology, and evolutionary theory… How Pleasure Works should stoke your neurons into a frenzy and leave you wanting more." — Mary Carmichael, Newsweek.com
"Bloom covers food, sex and art at length and touches on much more in this accessible compendium of experiments, quotes, philosophical nuggets and anecdotes. Sigmund Freud, Mr. Pleasure Principle himself, would have approved." — Katy Steinmetz, Time
"Scholarly yet spy…. Bloom salts the book with all manner of pungent, apposite points…. A heartening, well-developed argument." — Kirkus Reviews
"A gracefully written book and a lot of fun." — Peter D. Kramer, Slate
"Drawing on his own research as well as studies in neuroscience, behavioral economics, and philosophy, [Bloom] makes a powerful argument for essentialism at the crux of human pleasure." — Maywa Montenegro, Seed Magazine
"In this eloquent and provocative book, Paul Bloom takes us inside the paradoxes of pleasure, exploring everything from cannibalism to Picasso to IKEA furniture. The quirks of delight, it turns out, are a delightful way to learn about the human mind." — Jonah Lehrer, author of How We Decide
"This book is not just a pleasure, but a revelation, by one of psychology's deepest thinkers and best writers. Lucid and fascinating, you'll want to read it slowly and savor the experience." — Daniel Gilbert, author of Stumbling on Happiness
"How Pleasure Works has one of the best discussions I've read of why art is pleasurable, why it matters to us, and why it moves us so." — Daniel Levitin, author of This Is Your Brain on Music: The Science of a Human Obsession
"This book is a pearl, a work of great beauty and value, built up around a simple truth: that we are essentialists, tuned in to unseen order." — Jonathan Haidt, author of The Happiness Hypothesis: Finding Modern Truth in Ancient Wisdom
"This book is a pearl, a work of great beauty and value, built up around a simple truth: that we are essentialists, tuned in to unseen order." — Jonathan Haidt, author of The Happiness Hypothesis: Finding Modern Truth in Ancient Wisdom