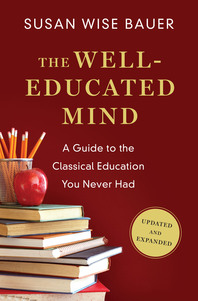 The Well-Educated Mind
A Guide to the Classical Education You Never Had
Updated and Expanded
January 2016
Description
An engaging guide to educating yourself in the classical tradition.
Including standout works from the twenty-first century as well as essential readings in science, The Well-Educated Mind offers brief, entertaining histories of six literary genres—fiction, autobiography, history, drama, poetry and science—accompanied by instructions on how to read each type. The annotated lists at the end of each chapter preview recommended reading and encourage readers to make connections between ancient traditions and contemporary writing.
In her best-selling work, The Well-Trained Mind, Susan Wise Bauer provided a parents' guide to classical education for home-schooling children. In The Well-Educated Mind, she takes the same elements and techniques and adapts them to the use of adult readers. Followed carefully, her advice will restore and expand the pleasure of the written word.