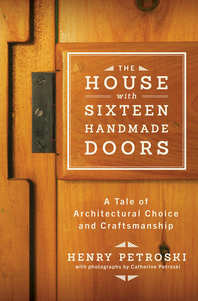 The House with Sixteen Handmade Doors
A Tale of Architectural Choice and Craftsmanship
Description
An architectural whodunit that unlocks the secrets of a hand-built home.
When Henry Petroski and his wife Catherine bought a charming but modest six-decades-old island retreat in coastal Maine, Petroski couldn't help but admire its unusual construction. An eminent expert on engineering, history, and design, he began wondering about the place's origins and evolution: Who built it, and how? What needs, materials, technologies, historical developments, and laws shaped it? How had it fared through the years with its various inhabitants?
Sleuthing around dimly lit closets, knotty-pine wall panels, and even a secret passage—but never removing so much as a nail—Petroski zooms in on the details but also steps back to examine the structure in the context of its time and place.
Catherine Petroski's beautiful photographs capture the clues and the atmosphere. A vibrant cast of neighbors and past residents—most notably the house's masterful creator, an engineer-turned-"folk architect"—become key characters in the story.
As the mystery unfolds, revealing an extraordinary house and its environs, this ode to loving design will leave readers enchanted and inspired.