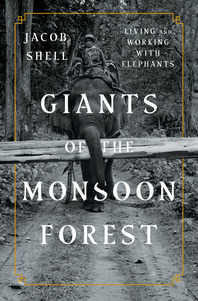 Giants of the Monsoon Forest
Living and Working with Elephants
Description
A journey through the hidden world of elephants and their riders.
From the kings of the Indus Valley to Hannibal's Alpine cavalry, humans have been living and working with elephants for millennia. In Giants of the Monsoon Forest, Jacob Shell travels to communities that still rely on this ancient partnership. After the 2004 tsunami, Indonesian officials deployed trained Sumatran elephants to clear wreckage. Along the mountainous Indian-Burmese border, the logging industry employs several thousand elephants. They share these forests with Kachin rebels, who navigate a secret network of trails atop elephant mounts.
Blending history, science and reportage, Giants of the Monsoon Forest offers a new perspective on animal intelligence and reveals an unexpected relationship between evolution in the natural world and political struggles in the human one. By working together, fugitive elephants and humans help preserve the wild spaces they both need to survive.
Reviews
"... thought-provoking study..." — Nature
"Never truly domesticated, many elephants in South East Asia worked for humans during the day yet were let go at night to forage in the forest. Jacob Shell discusses this age-old pact between two brainy species. Even if our view of the human-animal relation is changing, the awe in which we hold elephants is amply fed by the stories and history in this fascinating book, especially those in which elephants appear to use their own judgment to solve problems in the field." — Frans de Waal, author of the New York Times bestseller Are We Smart Enough to Know How Smart Animals Are? and Mama's Last Hug; Animal Emotions and What They Tell Us about Ourselves
"In the end, Giants of the Monsoon Forest offers an absorbing look at the dual world of semicaptive Asian elephants and convincingly argues for the interdependence of elephants and forest protection." — Science
"Giants of the Monsoon Forest makes a powerfully, though subtly, persuasive case for elephants to continue as working animals. Highly readable, it should appeal to a wide audience, just as the writing of Elephant Bill did in an earlier generation." — Times Literary Supplement