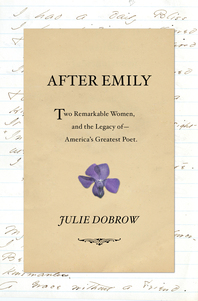 After Emily
Two Remarkable Women and the Legacy of America's Greatest Poet
Description
The untold story of the mother and daughter who opened the door to Emily Dickinson's poetry.
Emily Dickinson may be the most widely read American poet but the story behind her work's publication in 1890 is barely known.
After Emily recounts the extraordinary lives of Mabel Loomis Todd and her daughter, Millicent Todd Bingham and the powerful literary legacy they shared. Mabel's complicated relationships with the Dickinsons—including her thirteen-year extramarital affair with Emily's brother, Austin—roiled the small town of Amherst, Massachusetts. Julie Dobrow has unearthed hundreds of primary sources to tell this compelling story and reveal the surprising impact Mabel and Millicent had on the Emily Dickinson we know today.
Reviews
"... angering but finally inspiring After Emily... " — New Statesman
"A fascinating piece of literary scholarship and biography... told in mesmerising and quick-paced detail. It is also beautifully-produced, with a number of photographic plates and manuscript materials. Dobrow's work has the quality both of biography and of a thrilling soap-opera." — The Irish Times
"Mesmerizing... If you're interested in [Emily Dickinson], intellectual property issues, or juicy behind-the-scenes literary history, After Emily is your book." — Michael Dirda, The Washington Post
"Long overdue... At the end of her book, Ms. Dobrow wonders what Mabel and Millicent would think of her good work. Doubtless, they'd be very pleased." — Brenda Wineapple, The Wall Street Journal
Awards
Longlisted — PEN/Jacqueline Bograd Weld Award for Biography, 2019
Shortlisted — New England Society Book Award, 2019
Shortlisted — Plutarch Award, 2019