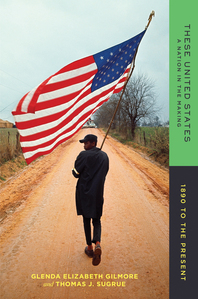 These United States
A Nation in the Making: 1890 to the Present
A POWERFUL BLEND OF NARRATIVE AND ANALYSIS

An absorbing, people-driven narrative brings together major and minor characters of the pivotal twentieth century. In every chapter, opening vignettes use characters—some well-known, such as Betty Friedan and John Lewis, but most everyday Americans—to drive the history, while insightful analyses throughout weigh the advances and retreats in equality and opportunity across the century.

A BALANCED AND INTEGRATED APPROACH

Building on the theme of a nation in the making, These United States explores the many and varied political and social narratives defining the twentieth century. Topics include:
• African American and civil rights history, from Jim Crow to Obama and Ferguson.
• Women's history, including the suffrage movement, work, the family and feminism.
• The rise of the American state at home and abroad through two world wars, Progressivism, the New Deal, the Great Society and Vietnam, as well as the counter pressures brought by the New Right, conservative politics and the challenges of the post-9/11 world.
• The economy and equality, particularly the development of a world-leading manufacturing economy and its unravelling in the 1970s and beyond.

Throughout the narrative, a question runs beneath the surface: Should we consider the long twentieth century the American century, or was the post-World War II period of middle-class security, political consensus, expanding opportunity and global influence an exception owing to specific historical circumstances? This theme gives students the historical perspective to understand current concerns over inequality still pervasive in American life.

ADDRESSES CONTEMPORARY CONCERNS THROUGH CONTEMPORARY SCHOLARSHIP

The author team's combined expertise on twentieth-century American history—particularly the history of civil rights—brings unparalleled scholarship to the text. The theme of a nation in the making, coupled with traditional views of the civil rights movement that are expanded over both time and place, gives These United States a contemporary edge that connects with current conversations about inequality.

A RICH SUPPORT PACKAGE

These United States offers all of the support tools needed by students and instructors alike. A visually dynamic four-colour design is rich with maps, figures, and illustrations throughout. In every chapter, paired documents ("Making a Nation") engage students in a critical analysis of primary sources, while an end-of-chapter section includes review questions and a list of key terms that are defined in a glossary at the back. The text is accompanied by a variety of media resources—including a test bank and PowerPoints of the maps, illustrations and figures from the text—at no additional cost. Package options include Norton's substantial library of history paperbacks and Norton Critical Editions, as well as the award-winning series of Reacting to the Past role-playing games, particularly Greenwich Village, 1913. Custom options include the Norton Mix: American History, which can be customised with chapters from These United States and/or documents on the twentieth century to create the ideal reader for any history classroom.