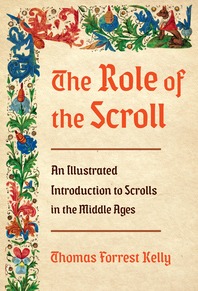 The Role of the Scroll
An Illustrated Introduction to Scrolls in the Middle Ages
Description
A beautifully illustrated, full colour history of scrolls and their uses in medieval life.
The Role of the Scroll answers the question of why scrolls were made when it was possible to produce books. Scrolls were the standard form of book in Western antiquity but from the fourth century onward, the codex began to outnumber scrolls. And yet, people in the Middle Ages continued to make them.
In these colourful pages, the reader will discover remarkable scrolls that range from showy court documents for empresses to tiny amulets for pregnant women, from pilgrimage maps to small, portable actors' scrolls. An alchemical recipe for gold gives a glimpse into medieval life as a metalsmith and a lengthy list of gifts for Queen Elizabeth I enables the reader to observe a court party. Lively and accessible, The Role of the Scroll is essential reading—and viewing—for anyone interested in how people have kept record of life through the ages.
Reviews
"We all supposed that scrolls had more-or-less died out in the ancient world, to be superseded by the codex. This fascinating book unfolds a parallel universe of manuscripts throughout the Middle Ages. The living fossils from antiquity were actually still there, alive and invisible, in every aspect of medieval book production. They just keep rolling, they keep on rolling along." — Christopher de Hamel, author of Meetings with Remarkable Manuscripts
"There is much to admire in Kelly's concise, well-illustrated, and vivid account." — Bernard Meehan, Research Fellow, Trinity Medieval History Research Centre, Trinity College Dublin
"This is a wonderful introduction to the medieval scroll. A thoroughly enjoyable reading with numerous insights on this very popular form and exceptionally illustrated with key examples and explanatory caption." — Orietta Da Rold, Fellow at St. John's College, Cambridge
"... lively book... There are many beautiful images here: we are able to study scrolls containing recipes—culinary, medical, magical and alchemical (some of them were lavishly illustrated); rolls of arms; maps for pilgrimages; and royal genealogies." — Times Literary Supplement
"This lavishly illustrated survey provides a superb overview of these important and often beautiful artefacts." — Times Higher Education
"This book sets out to set the record straight by instancing the scroll in various forms throughout the Middle Ages into the Renaissance." — The Art Newspaper
"... well-illustrated and highly readable volume... decades of research into scrolls by the author has resulted in a fascinating glimpse of their use throughout history..." — The Catholic Herald