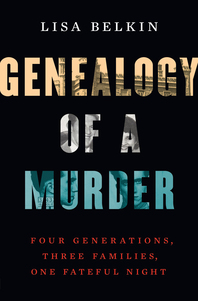 Genealogy of a Murder
Four Generations, Three Families, One Fateful Night
Description
The multigenerational tale of three families whose paths collide one summer night in 1960 with the murder of a police officer
Independence Day weekend, 1960: a young police officer is murdered, shocking his close-knit community in Stamford, Connecticut. The killer remains at large, his identity still unknown. But on a beach not far away, a young Army doctor, on leave from his post at a research lab in a maximum-security prison, faces a chilling realisation. He knows who the shooter is. In fact, the man—a prisoner out on parole—had called him only days before. By helping his former charge and trainee, the doctor, a believer in second chances, may have inadvertently helped set the murder into motion. And with that one phone call, may have sealed a policeman's fate.
Alvin Tarlov, David Troy and Joseph DeSalvo were all born of the Great Depression, all with grandparents who'd left different homelands for the same American Dream. How did one become a doctor, one a police officer and one a convict? In Genealogy of a Murder, journalist Lisa Belkin traces the paths of each of these three men—one of them her stepfather. Her canvas is large, spanning the first half of the 20th century: immigration, the struggles of the working class, prison reform, medical experiments, politics and war, the nature/nurture debate, epigenetics, the infamous Leopold and Loeb case and the history of motorcycle racing. It is also intimate: a look into the workings of the mind and heart.
Following these threads to their tragic outcome in July 1960, and beyond, Belkin examines the coincidences and choices that led to one fateful night. The result is a brilliantly researched, narratively ingenious story, which illuminates how we shape history even as we are shaped by it.
Reviews
"[An] exhilarating, intimate study of fate, chance and the wildly meaningful intersections of disparate lives….Belkin writes insightfully and engagingly….She has a keen eye for an anecdote and a sharp sense of humor." — Robert Kolker, The New York Times Book Review
"Ms. Belkin stages the drama with the pace and tension of a Greek tragedy...gripping....though-provoking." — Tom Nolan, The Wall Street Journal
"Lisa Belkin has taken an incredible story and unraveled it in the most masterful way. This is an intensely readable, fascinating book that will be with you for a long time." — Julie Klam, author of The Almost Legendary Morris Sisters: A True Story of Family Fiction
"A generational saga both exquisitely detailed and majestically sweeping.… This wonderful book by master storyteller Lisa Belkin carries the reader effortlessly along, revealing profound truths about the history of our country, the intertwined nature of our personal stories, and the forces—often hidden—driving our own lives, our own loves, our own times." — Liza Mundy, author of Code Girls: The Untold Story of the American Women Code Breakers of World War II
"In this riveting narrative, Lisa Belkin brings history to life. Weaving philosophical, psychological, historical, and personal threads, she dissects how the past shapes us and makes us who we are. Meticulously researched and beautifully constructed, this book reads like historical fiction—though it is, almost unfathomably, true." — Christina Baker Kline, author of Orphan Train and The Exiles