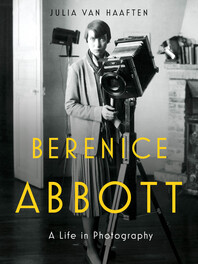 Berenice Abbott
A Life in Photography
Description
The definitive biography of the iconic twentieth-century photographer, pioneering documentary modernist, author and inventor.
Berenice Abbott is to American photography what Georgia O'Keeffe is to painting or Willa Cather to letters. Abbott's sixty-year career established her not only as a master of American photography but also as a teacher, writer, archivist and inventor.
A teenage rebel from Ohio, Abbott escaped to Paris—photographing, in Sylvia Beach's words, "everyone who was anyone"—before returning to New York as the Roaring Twenties ended. Abbott's best known work, "Changing New York", documented the city's 1930s metamorphosis. She then turned to science as a subject, culminating in work important to the 1950s "space race". This biography secures Abbott's place in the histories of photography and modern art while framing her accomplishments as a female artist and entrepreneur.
Reviews
"The founding curator of the New York Public Library photography collection offers an insightful biography of a pioneering photographer whose work over six decades helped define the modernist tradition... Van Haaften offers a sophisticated take on Abbott's personal and artistic tragedies and triumphs." — Ten books to read in April, BBC Culture
"Berenice Abbott captures a large and star-studded life... A vital work of American cultural history." — The New York Times
"Absorbing... Abbott's integrity and sense of honor, her restless and fearless nature, and her absolute devotion to telling the truth of her experience, come through loud and clear." — The Washington Post
"Insightful... A sophisticated take on Abbott's personal and artistic tragedies and triumphs." — Jane Ciabattari, BBC
"This finely observed and assiduously researched book manages to pin down an artist who was, in her own words, "a little rebel from beginning to end"." — The Art Newspaper
Awards
Longlisted — PEN/Jacqueline Bograd Weld Award for Biography, 2019
Shortlisted — Lambda Literary Award, 2019