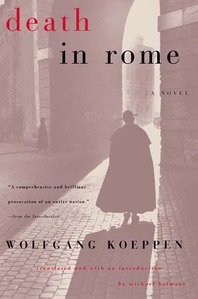 Death in Rome
June 2001
Territory Rights — Worldwide including Canada, but excluding the British Commonwealth and the European Union.
Description
A prophetic novel that ranks with The Tin Drum and W. G. Sebald's The Emigrants as one of the essential works of contemporary European fiction.
Wolfgang Koeppen's Death in Rome, in the words of translator Michael Hofmann, "is a comprehensive and brilliant provocation of an entire nation." First published in 1954 to great controversy, it is only now being recognized as a classic. A tragic portrait of Germany after World War II, Death in Rome completes the trilogy that earned Koeppen praise from Günter Grass in his lifetime as "the greatest living German writer." Mirroring the social and political upheaval following the fall of Nazism, Koeppen here offers the story of four members of a Germany family—a former SS officer, a young man preparing for the priesthood, a composer, and a government administrator—reunited by chance in the decaying beauty of postwar Rome. Koeppen re-creates the soul of a nation at a significant juncture of history in this devastating work of literary genius.