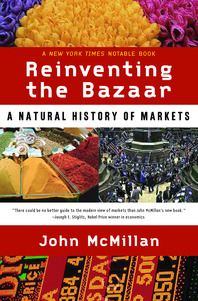 Reinventing the Bazaar
A Natural History of Markets
Description
Clear, insightful, and nondogmatic, this book gives us a new appreciation for one of our most ubiquitous institutions.
From the wild swings of the stock market to the online auctions of eBay to the unexpected twists of the world's post-Communist economies, markets have suddenly become quite visible. We now have occasion to ask, "What makes these institutions work? How important are they? How can we improve them?"
Taking us on a lively tour of a world we once took for granted, John McMillan offers examples ranging from a camel trading fair in India to the $20 million per day Aalsmeer flower market in the Netherlands to the global trade in AIDS drugs. Eschewing ideology, he shows us that markets are neither magical nor immoral. Rather, they are powerful if imperfect tools, the best we've found for improving our living standards.
A New York Times Notable Book.
Reviews
"There could be no better guide to the modern view of markets than John McMillan's book." — Joseph E. Stiglitz, Nobel prize winner in economics