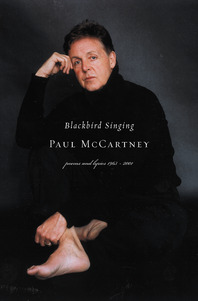 Blackbird Singing
Poems and Lyrics, 1965–1999
20 September 2013
Territory Rights — Worldwide, excluding Canada, the British Commonwealth and the European Union.
Description
"McCartney writes as freely—and often as beautifully—as a blackbird sings....[He] is a genius with the common touch."—Stephen Logan, The Sunday Times [London]
The hardcover publication of Blackbird Singing, the first collection of Paul McCartney's poems and lyrics, was an international cultural event—celebrated in concert halls, at literary festivals, and in newspapers and magazines throughout the world. "While McCartney is of a completely different cast than Bob Dylan, his appeal may be even greater than that of the latter great poet-songwriter," wrote Publishers Weekly; The Guardian hailed McCartney's words as "a remarkable feat of historical imagination." The best-selling Blackbird Singing now includes several new poems and lyrics, including "Freedom," which McCartney performed in New York City at a benefit concert last fall. To actually read McCartney's poems, whether exuberant ballads of love or poignant messages of deepest grief, is to appreciate the electrifying power of the confluence of dream and song. Inspired by his late wife, Linda McCartney, Blackbird Singing gives us extraordinary access to the inner life of one of the most influential figures of our time.