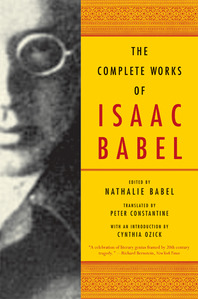 The Complete Works of Isaac Babel
February 2006
Territory Rights — Worldwide including Canada, but excluding the British Commonwealth.
Description
"A celebration of literary genius framed by 20th-century tragedy."--Richard Bernstein, New York Times
Finally in paperback, this "monumental collection; gathers all of Babel's deft and brutal writing, including a wide array of previously unavailable material, from never-before-translated stories to plays and film scripts" (David Ulin, Los Angeles Times). Reviewing the work in The New Republic, James Woods wrote that this groundbreaking volume "represents a triumph of translating, editing, and publishing. Beautiful to hold, scholarly and also popularly accessible, it is an enactment of love." Considered one of the greatest writers of the twentieth century, Isaac Babel has left his mark on a generation of readers and writers. This book will stand as Babel's final, most enduring legacy. Winner of the Koret Jewish Book Award; A New York Times Notable Book, a and Library Journal Best Book, a Washington Post Book World Rave, a Village Voice Favorite Book of the Year.
Awards
Winner — New York Times Notable Selection, 2002