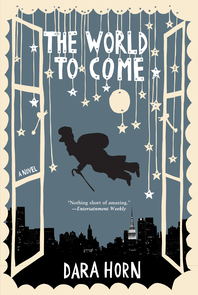 The World to Come
A Novel
August 2006
Territory Rights — Worldwide including Canada, Singapore and Malaysia, but excluding the British Commonwealth.
Description
"Nothing short of amazing." —Entertainment Weekly
A million-dollar Chagall is stolen from a museum during a singles' cocktail hour. The unlikely thief, former child prodigy Benjamin Ziskind, is convinced that the painting once hung in his parents' living room. This work of art opens a door through which we discover his family's startling history—from an orphanage in Soviet Russia where Chagall taught to suburban New Jersey and the jungles of Vietnam.
Reviews
"A deeply satisfying literary mystery and a funny-sad meditation on how the past haunts the present—and how we haunt the future." — Lev Grossman, Time
"Brilliantly imagined." — Merle Rubin, Wall Street Journal
"Symphonic and piercingly beautiful…the novel suspends us between emotions, never allowing any to become predominant, and we hang there in that indeterminate space, perfectly happy, hoping that the book will never end." — Bethany Scneider, Newsday
"Horn's deft touch is often wryly funny—but never maliciously so…An accomplished work that beautifully explains how families—in all their maddening, smothering, supportive glory—create us." — Natalie Danford, Los Angeles Times Book Review
"Deeply sympathetic characters, an encyclopedic grasp of 20th-century history and a spiritual sense that sees through the conventional barriers between this life and the one to come—or the one before." — Ron Charles, Washington Post
"This book is the real thing." — Julia Livshin, Chicago Tribune
Awards
Winner — National Jewish Book Award, 2006