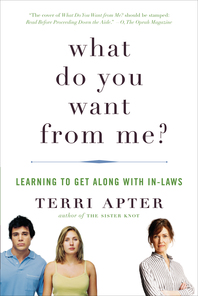 What Do You Want from Me?
Learning to Get Along with In-Laws
Description
"The cover of What Do You Want from Me? should be stamped read before proceeding down the aisle."—O, The Oprah Magazine
When we marry, we believe the bond is between only two individuals. Few of us realize the power that in-laws exert over our lives. What Do You Want from Me? takes a fresh look at how the in-laws we acquire when we marry affect our quality of life—our marriage, family, personal comfort, and long-term well-being—for better or worse. Here is an essential book for husbands and wives, parents and children, seeking to strengthen the bonds of family.
Reviews
"A keenly perceptive interpretation of the kinship structures, 'fracture lines,' and recurrent emotions—resentment, ambivalence, acceptance—that are part and parcel of the in-law experience." — The Atlantic
"With professional grace, Apter exposes the emotional minefields that couples often navigate around in-laws, and the ease with which they become stuck in negative (and familiar) attitudes toward them." — Publishers Weekly