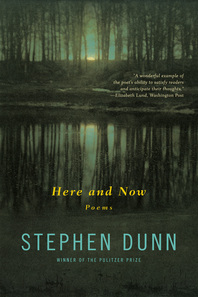 Description
"A wonderful example of the poet's ability to satisfy readers and anticipate their thoughts."—Elizabeth Lund, Washington Post
In his sixteenth collection, Stephen Dunn continues to bring his imagination and intelligence to what Wallace Stevens calls "the problems of the normal," which of course pervade most of our lives. The poem "Don't Do That" opens with the lines: "It was bring-your-own if you wanted anything / hard, so I brought Johnnie Walker Red / along with some resentment I'd held in / for a few weeks." In other poems, Dunn contemplates his own mortality, echoing Yeats—"That is no country for old men / cadenced everything I said"—only to discover he's joined their ranks. In "The Writer of Nudes" his speaker is in search of the body's "grammar" but tells his models, "Don't expect to see yourself as other / than I see you." Full of grace, wit, humor, and masterful precision, the poems in Here and Now attest to the contradictions we live with in the here and now. Political and metaphysical, these astonishing poems remind us of the essential human comedy of getting through each day.

from "The House on the Hill"

      . . . from out of the fog,
      a large, welcoming house would emerge
      made out of invention and surprise.
      No things without ideas! you'd shout,
      and the doors would open,
      and the echoes would cascade down
      to the valleys and the faraway towns.