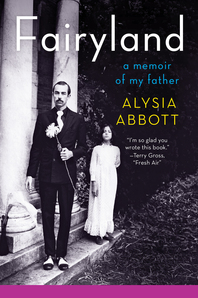 Fairyland
A Memoir of My Father
Description
Finalist for a Lambda Literary Award and a San Francisco Chronicle Best Book of the Year
In this vibrant memoir, Alysia Abbott recounts growing up in 1970s San Francisco with Steve Abbott, a gay, single father during an era when that was rare. Reconstructing their time together from a remarkable cache of Steve's writings, Alysia gives us an unforgettable portrait of a tumultuous, historic period in San Francisco as well as an exquisitely moving account of a father's legacy and a daughter's love.
Reviews
"I'm so glad you wrote this book." — Terry Gross, NPR's Fresh Air
"Compassionate, cleareyed." — Alexandra Styron, New York Times Book Review
"More than the story of just one person; [Fairyland] also open[s] a window on an entire society." — Leigh Newman, O, The Oprah Magazine
"I love the book Fairyland; it's a sweet and unique love story of a girl and her dad." — Sofia Coppola
"Doubles as a portrait of a city and a community at a crucial point in history…funny, strange, and sweet." — The New Yorker
"Alysia beautifully remembers the innocence of the age between the disappearance of the Beats and the onset of AIDS." — San Francisco Chronicle
"Generous, precise, and deeply moving, Fairyland is a love story that not only brings a new generational perspective to a history we're in danger of forgetting, but irrevocably shifts the way we think about family itself." — Alison Bechdel, author of Are You My Mother?
"Gorgeous…As a chronicle of the moment when the San Francisco of Armistad Maupin became the city of Harvey Milk, when gay and experimental poetry flourished in California, Fairyland is vivid and indelible. As the portrait of a conspiracy of love between a father and a daughter, it is heartrending, a brilliant addition to the literature of American memoir." — Honor Moore, Author of Our Revolution
"A beautiful, haunting book that instructs, even as it breaks our hearts." — Dani Shapiro, author of Devotion: A Memoir
"Clear-eyed and heartrending, Fairyland captures a singular time and place in American history. It also captures something much more important: what it means to be truly loved—and to love truly. A beautiful book." — Andrew McCarthy, author of The Longest Way Home
"As she depicts the dynamics of a unique, occasionally fraught, gay parent–straight child relationship, Abbott offers unforgettable glimpses into a community that has since left an indelible mark on both the literary and social histories of one of America's most colorful cities. A sympathetic and deeply moving story." — Kirkus Reviews