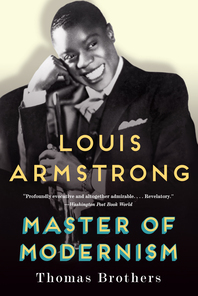 Louis Armstrong, Master of Modernism
Description
The definitive account of Louis Armstrong—his life and legacy—during the most creative period of his career.
A biography of Louis Armstrong's prolific years in the 1920s and early 1930s, this book examines the cultural forces that shaped his life and, ultimately, jazz itself. Thomas Brothers picks up where he left off with the "compelling" (
Literary Review
), "scholarly without being scholastic" (
Financial Times
),
Louis Armstrong's New Orleans
(ISBN 978 0 393 33001 4), blending personal accounts to tell the story of how Armstrong navigated the legacies of racial inequality to forge two new musical styles—one vocal and one instrumental—that permanently altered the course of popular music. Combining biography, cultural history and musical scholarship,
Louis Armstrong, Master of Modernism
illuminates the life and work of the man often considered to be the greatest American artist of the twentieth century.
Reviews
"Thomas Brothers has now produced a second wonderful book in his multi-volume study of Armstrong's life and music." — Literary Review
"Evokes the quick-fingered, megawatt-smiled music legend's formative years, when he moved from New Orleans to Chicago and on to New York in pursuit of musical fame—and a style all his own." — Vogue
"It makes for a rounded, rigorous, vivid portrait of a man who, Brothers argues, became the ultimate representative of African-American musical history." — Financial Times
"...scholarly and well-written book..." — Daily Mail
"...scholarly but accessible biography..." — Independent on Sunday
Awards
Shortlisted — Pulitzer Prize, 2015