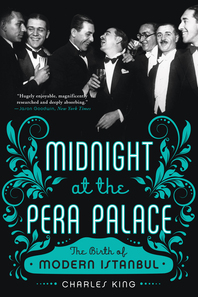 Midnight at the Pera Palace
The Birth of Modern Istanbul
Description
Charles King brings to life a remarkable era when a storied city stumbled into the modern world and reshaped the meaning of cosmopolitanism.
When the Ottoman Empire collapsed, so many spies mingled in the lobby of Istanbul's Pera Palace Hotel that the manager put up a sign asking them to relinquish seats to paying guests.
As the multi-ethnic empire became a Turkish republic, Russian émigrés sold family heirlooms, an African American impresario founded a jazz club and Miss Turkey became the first Muslim beauty queen. Turkey's president Kemal Atatürk, Muslim feminist Halide Edip, the exiled Leon Trotsky and the future Pope John XXIII fought for new visions of human freedom. During the Second World War, German intellectuals ran from the Nazis while Jewish activists spirited refugees out of occupied Europe. This pioneering portrait of urban reinvention re-creates an era when an ancient city became a global crossroads—a moment when Europe's closest Muslim metropolis became its vital port of refuge.
Reviews
"Intrigue, violence, sex and espionage, all set against the slow dimming of Ottoman magnificence. I loved this book." — Simon Winchester
"Mr King has found a winning formula for depicting the micro- and macro-history of one of the world's most seductive places." — The Economist
"King's wonderful book, as rich in historic moments as it is in squalor, may have got closer to Istanbul's enduring spirit than any other." — The Sunday Telegraph
"Charles King's lively and intelligent book…" — The Times
"Charles King has combed out the threads of this complex and highly nuanced story in a hugely enjoyable, magnificently researched and deeply absorbing book." — The New York Times
"The excellent and timely Midnight at the Pera Palace, by Charles King, goes for a wider view, offering a fascinating take on the period and the characters that passed through the city." — Cornucopia
"A superb portrait of interwar Istanbul... It [Midnight at the Pera Palace] succeeds brilliantly in portraying the eclipsed city in the Twenties and Thirties, when bars, jazz clubs, beauty contests and brothels all proliferated." — The Sunday Telegraph