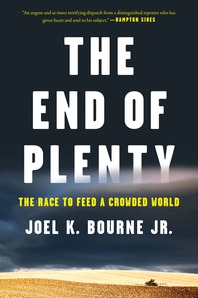 The End of Plenty
The Race to Feed a Crowded World
14 June 2016
Territory Rights — Worldwide including Canada, but excluding the British Commonwealth.
Description
"An urgent and at times terrifying dispatch from a distinguished reporter who has given heart and soul to his subject."—Hampton Sides
In The End of Plenty, award-winning environmental journalist Joel K. Bourne Jr. puts our fight against devastating world hunger in dramatic perspective. He travels the globe to introduce a new generation of farmers and scientists on the front lines of the next green revolution. He visits corporate farmers trying to restore Ukraine as Europe's breadbasket, a Canadian aquaculturist, the agronomist behind the world's largest organic sugarcane plantation, and many other extraordinary farmers, large and small, who are racing to stave off catastrophe as climate change disrupts food production worldwide.
A Financial Times Best Book of the Year and a Finalist for the PEN / E. O. Wilson Literary Science Writing Award.
Reviews
"[A] fascinating narrative…Bourne brings a piercing eye to intransigent problems in food production and alleviation of hunger, leavened by notes of pragmatism and optimism." — Jean L. Steiner, Science
"An important read for everyone." — Paul R. Ehrlich, co-author of The Dominant Animal
"A thoroughly researched and exceptionally thoughtful and balanced look at the consequences of industrial farming. [Bourne's] book should convince every reader of the compelling need to address world food problems through more skillful and sustainable agronomy, but also through education, especially of women, and universal family planning." — Marion Nestle, professor of nutrition, food studies, and public health, New York University, and author of Food Politics
"Reading about the amazing advances being made by developing-world farmers with 'organic' agriculture left me with a vision of the planet we could still create." — Bill McKibben, author of Deep Economy
"One of the most informative, engaging books on the world food prospect I have ever read." — Lester R. Brown, president of Earth Policy Institute, and author of Full Planet, Empty Plates
"In a well-documented and fast-moving manner, Joel Bourne Jr., one of America's foremost experts by virtue of his 'hands-on' experience, education and world travel, clearly depicts a strategic challenge for America's national security in the coming years." — Henry H. Shelton, General, US Army (retired), 14th Chairman Joint Chiefs of Staff
"Joel Bourne, who grew up working on his family's farm, traveled the world to explore what may be the greatest challenge facing the next generation. The result is calm, lucid—and fascinating." — Charles C. Mann, author of 1491 and 1493
Awards
Shortlisted — William Saroyan International Prize, 2016
Shortlisted — PEN/E. O. Wilson Literary Science Writing Award, 2016