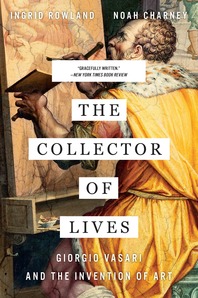 The Collector of Lives
Giorgio Vasari and the Invention of Art
Description
A narrative of intrigue, gossip and colourful artistic rivalry, The Collector of Lives presents a lively introduction to a seminal figure in the very human story of art itself.
An accomplished painter, architect and diplomat, Giorgio Vasari (1511–1574) is best known for Lives of the Artists, his classic account of the great masters—an extraordinary book that invented the genre of artistic biography, single-handedly established the canon of Italian Renaissance art and founded the cults of Raphael, Leonardo and Michelangelo that persist to this day. Vasari positioned art as an intellectual pursuit instead of just a technical skill, teaching us to view artists as geniuses and visionaries rather than as simple craftsmen.
Immersing readers in the world of the Medici and the popes, Ingrid Rowland and Noah Charney show the great works of Western culture taking shape amid the thrilling culture of Renaissance Italy.
Reviews
"The authors' greatest service to their subject is to reestablish him as a tireless artist and a central witness to an epic period of Italian history." — Michael Prodger, The Sunday Times
"... an insightful and gripping new book... Ms Rowland and Mr Charney draw a panoramic view of the art-world during the Renaissance, placing Vasari at the centre... This is an important book and long awaited. The authors have done a commendable job of returning to his rightful place the man who inflated the reputation of art and artists so successfully that he himself was squeezed out of the picture." — The Economist
"... absorbing... a page-turningly compelling overview of Giorgio Vasari and his age…" — Literary Review
"Ingrid Rowland and Noah Charney give full measure to his [Georgio Vasari's] artistic skills (and the diplomatic adroitness he needed to exercise them) and place him again at the centre of 16th-century Italian art." — Michael Prodger, Art Books of the Year 2017, The Sunday Times
"Ingrid Rowland, a prominent scholar of Renaissance art and history, and her fellow writer and historian Noah Charney, wear their erudition lightly in their gracefully written biography." — Deborah Solomon, New York Times Book Review
"Readers curious about the making of Renaissance art, its cast of characters and political intrigue, will find much to relish in these pages. This is a lively, highly readable point of entry into an important and fascinating text." — Cammy Brothers, The Wall Street Journal
"[Rowland and Charney's] account of Vasari's Tuscany, and of the facts (and fictions) that went into his "Lives," is a fitting tribute to their subject's biographical achievements." — The New Yorker