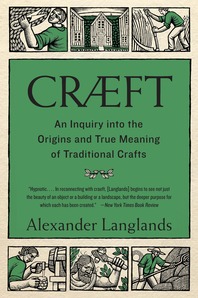 Cræft
An Inquiry Into the Origins and True Meaning of Traditional Crafts
15 January 2019
Territory Rights — Worldwide including Singapore and Malaysia, but excluding Canada, the rest of the British Commonwealth and the European Union.
Description
"Hypnotic.… [Langlands] begins to see not just the beauty of an object.… but the deeper purpose for which each has been created." —New York Times
Faced with an endless supply of mass-manufactured products, we find ourselves nostalgic for goods bearing the mark of authenticity—hand-made tools, local brews, and other objects produced by human hands. Archaeologist and medieval historian Alexander Langlands reaches as far back as the Neolithic period to recover our lost sense of craft, combining deep history with detailed scientific analyses and his own experiences making traditional crafts. Craft brims with vivid storytelling, rich descriptions of natural landscape, and delightful surprises that will convince us to introduce more craft into our lives.
Reviews
"A coherent and enjoyable argument for 'not just a knowledge of making but a knowledge of being.'" — Guardian
"I am in no way crafty, but this book had me yearning to thatch my own roof just to be in touch with the physical and attendant mental labor of putting something useful together." — Pamela Paul, New York Times
"Langlands excavates the scintillating history of our truest superpower: making clever things with our hands.… I am damn grateful for this book." — Nick Offerman, author of Paddle Your Own Canoe
"Erudite, deftly argued, well written and timely—Langlands weaves together the basic human desire to use our hands to make things with tradition, landscape and the natural world. A delightful book that should be widely read." — Robert Penn, author of The Man Who Made Things Out of Trees
"Alexander Langlands is spot-on: crafting isn't just about creating beautiful, useful objects. It's about reclaiming the knowledge, wisdom, and power that link us to the collective history of civilization. Craft is what makes us human." — Carleen Madigan, editor of The Backyard Homestead
"Alex Langlands is probably the only person who could have written this wonderful book, drawing as it does upon his extraordinary combination of experiences as an archaeologist and as somebody who has actively learned such a huge range of the traditional crafts which he explains. This is literally heritage in action, and artistry which produces practical rewards." — Ronald Hutton, professor of British history, University of Bristol, and author of The Triumph of the Moon
"Part how-to, part memoir, the book gets at what it means to make things with your own hands, and how this experience connects us both to the past and to our present sense of place." — American Scholar
"Whether it's the small-batch hot sauce or the rage for craft beer, today's consumer wants tradition, quality, and artisan everything. Langlands offers a fascinating history of what's setting trends today." — Booklist
"An engaging read imparting a wealth of historical knowledge with a touch of infotainment. With current interest in authentic arts and handmade goods, this unparalleled scholarly work will appeal to both specialists and casual readers." — Library Journal (starred review)