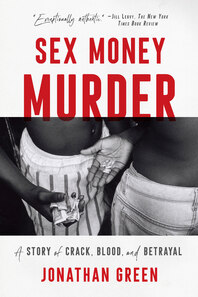 Sex Money Murder
A Story of Crack, Blood, and Betrayal
Description
A searing portrait of the crack epidemic and violent drug wars that once ravaged the South Bronx.
In the late 1980s and early 1990s, the South Bronx had one of the highest per capita murder rates in America. As the use of crack cocaine surged, replacing heroin as the high of choice, dealers and gangs staked claims to territory and consumers through intimidation and murder, and families found themselves fractured by crime and incarceration.
Chronicling the rise and fall of Sex Money Murder, one of the most violent gangs of its era, in this engrossing work of gritty urban reportage, Jonathan Green offers a visceral and devastating portrait of a New York City borough going down in flames, and of the detectives and prosecutors struggling to stem the tide of violence. Drawing on first-person interviews, police reports and court transcripts, Sex Money Murder, gives an extraordinary perspective on modern-day America.
Reviews
"... a gripping narrative... this is a fascinating, albeit dispiriting read, a searing portrait of the appalling inequalities of the American Dream gone sour, a three-act tragedy played out against a soundtrack of gangsta rap." — Mail on Sunday
"If any professionals are contemplating retraining as gang members to replace income diverted by the decline of their industries, seek counsel first from this riveting book." — Strong Words