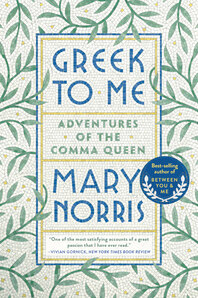 Greek to Me
Adventures of the Comma Queen
April 2020
Territory Rights — Worldwide, excluding Australia and New Zealand.
Description
The beloved Comma Queen returns with a buoyant and charming book about language, love and the wine-dark sea.
In her The New York Times best-selling Between You & Me (ISBN 978 0 393 352146), Mary Norris delighted readers with her irreverent tales of pencils, punctuation and punctiliousness over three decades in The New Yorker's celebrated copy department. In Greek to Me, she delivers another wise and witty paean to the art of expressing oneself clearly and convincingly, this time filtered through her greatest passion: all things Greek.
From convincing her The New Yorker bosses to pay for Ancient Greek studies to travelling the sacred way in search of Persephone, Greek to Me is an unforgettable account of both her lifelong love affair with words and her solo adventures in the land of olive trees and ouzo. Along the way, Norris explains how the alphabet originated in Greece, makes the case for Athena as a feminist icon and reveals the surprising ways Greek helped form English. Filled with Norris's memorable encounters with Greek words, Greek gods, Greek wine—and more than a few Greek waiters—Greek to Me is the Comma Queen's fresh take on Greece and the exotic yet strangely familiar language that so deeply influences our own.
Reviews
"Greek, [Norris] concludes, is "sexy", especially for someone with her logophilic cast of mind. Since ancient Greek has given so many rarefied words to English, Ms Norris gets a small thrill from being asked "dipsas?" ("Are you thirsty?") The root that shows up in the English "dipsomaniac" is everyday Greek." — The Economist
"Mary Norris has a remarkable gift for conveying and transmitting passion... In her second book, Greek to Me, she demonstrates this gift with still greater aplomb…" — Times Literary Supplement
"Mary Norris's book about her love affair with Greece and the Greek language starts with a terrific chapter about alphabets." — The Spectator
"Greek to Me is a[n]... engaging hybrid, mixing philology, travelogue, memoir and psychoanalysis." — The Telegraph
"A love letter to Greece and its language is full of delightful facts and brims with nerdish, bookish joy... Norris is a jaunty companion, splendidly bookish, full of excellent little facts about, say, the history of the alphabet that you feel pleased to acquire. Greek gives her, she is happy to admit, "an erotic thrill". She represents a hearty riposte to the very British notion that a love of dead languages automatically renders one a chilly, Olympian elitist." — The Guardian
"I fell in love with Mary Norris's first book, and am now even more in love with this charming, ribald, highly informed, and always funny excursion through the language, culture, and oddities of Greece and the Greek language. An adventure tale for intellectuals—and also for the rest of us." — Steve Martin