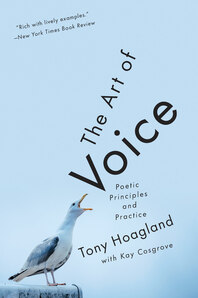 The Art of Voice
Poetic Principles and Practice
Description
An award-winning poet, teacher and "champion of poetry" (New York Times) demystifies the elusive element of voice.
In this accessible and distilled craft guide, acclaimed poet Tony Hoagland approaches poetry through the frame of poetic voice, that mysterious connective element that binds the speaker and reader together. A poem strong in the dimension of voice is an animate thing of shifting balances, tones and temperatures, by turns confiding, vulgar, bossy or cunning—but above all, alive.
The twelve short chapters of The Art of Voice explore ways to create a distinctive poetic voice, including vernacular, authoritative statement, material imagination, speech register, tone-shifting and using secondary voices as an enriching source of texture in the poem. A comprehensive appendix contains thirty stimulating models and exercises that will help poets cultivate their craft. Mining his personal experience as a poet and analysing a wide range of examples from Catullus to Marie Howe, Hoagland provides a lively introduction to contemporary poetry and an invaluable guide for any practising writer.