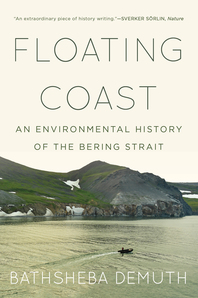 Floating Coast
An Environmental History of the Bering Strait
Description
"Extraordinary... seamless... astonishingly rich" (Sverker Sörlin, Nature)—an eye-opening environmental history of the Far North.
Across Russia's easternmost shores and through the territories of the Inupiat and Yupik in Alaska, Bathsheba Demuth reveals how, over 150 years, people turned ecological wealth in a remote region into economic growth and state power.
Beginning in the 1840s, capitalism and then communism, with their ideas of progress, transformed the area around the Bering Strait into a historical experiment in remaking ecosystems. Rendered even more urgent in a warming climate, Floating Coast is a profoundly resonant tale of the impact that human needs and ambitions have brought (and will continue to bring) to a finite planet.
• Shortlisted for the The Pushkin House Book Prize 2020.
Reviews
"In Floating Coast, Bathsheba Demouth has written a brilliant hybrid book about one of the most fragile and forgotten of Anthropocene front-line territories, the Bering Strait. Uniting ecology, anthropology, reportage and more, this is a superb work of environmental history, often reminiscent to me of Barry Lopez's Arctic Dreams in its combination of rigorous research, intense looking and listening, and its clear ethical vision." — Robert Macfarlane
"... Demuth has now herself written the history she calls for. Floating Coast is a historian's Moby Dick, a great white whale of a book that spans centuries and links landscapes, living beings, and the flux of time, into a marvelously readable narrative." — Amitav Ghosh
"Floating Coast is an extraordinary piece of history writing, seamlessly weaving together disparate elements. It is astonishingly rich in ethnographic detail, ecological precision, economic circumstance and historical texture." — Nature
"Demuth, an environmental historian at Brown University, has reaped rich and fascinating material from the oral history of the indigenous Beringians recorded by ethnographers." — Literary Review
"Floating Coast is rich, well researched and illuminating. It keeps under readers' feet the vastness of Demuth's expertise, as solid as a land bridge." — The International New York Times
Awards
Longlisted — Cundill History Prize, 2020
Winner — Western History Association Hal K. Rothman Book Prize, 2020
Winner — William Mills Prize, 2020
Winner — George Perkins Marsh Prize, 2020
Winner — Western History Association W. Turrentine Jackson Award, 2020
Shortlisted — Pushkin House Book Prize, 2020
Winner — Julia Ward Howe Prize, 2019
Commended — Rachel Carson Environment Book Award, 2020
Winner — Eric Zencey Prize in Ecological Economics, 2020
Winner — American Historial Association John H. Dunning Prize, 2021