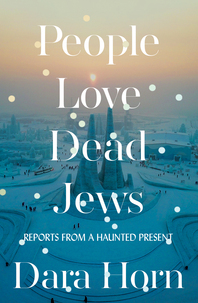 People Love Dead Jews
Reports from a Haunted Present
Description
A startling exploration of how Jewish history is exploited to comfort the living.
Reflecting on subjects as far-flung as the international veneration of Anne Frank, the blockbuster travelling exhibition called "Auschwitz", the Jewish history of the Chinese city of Harbin and the little known "righteous-gentile" Varian Fry, Dara Horn challenges us to confront the reasons why there might be so much fascination with Jewish deaths, as emblematic of the worst of evils the world has to offer, and so little respect for Jewish lives, as they continue to unfold in the present.
Horn draws on her own family life—trying to explain Shakespeare's Shylock to a curious ten-year-old, her anger when swastikas are drawn on desks in her children's school in New Jersey, the profound and essential perspective offered by traditional religious practice, prayer and study—to assert the vitality, complexity and depth of this life against an anti-Semitism that, far from being disarmed by the mantra of "Never Forget", is on the rise.
Reviews
"Weav­ing togeth­er his­to­ry, social sci­ence, and per­son­al sto­ry, she asks read­ers to think crit­i­cal­ly about why we ven­er­ate sto­ries and spaces that make the destruc­tion of world Jew­ry a com­pelling nar­ra­tive while also min­i­miz­ing the cur­rent cri­sis of anti­semitism... Peo­ple Love Dead Jews offers no defin­i­tive solu­tion to the para­dox it unfolds. Horn leaves the read­er with sev­er­al inter­wo­ven expla­na­tions, each of which lead us to con­front the dark real­i­ty that Jew­ish deaths make for a com­pelling edu­ca­tion­al nar­ra­tive, while fac­ing the anti­semitism of the present demands a com­mit­ment to equal­i­ty that the world remains unable to embrace." — Jonathan Fass, Jewish Book Council
"People Love Dead Jews is, of all things, a deeply entertaining book, from its whopper of a title on. Horn's sarcasm is bracing, reminding us that the politics of Jewish memory often becomes an outrageous marketing of half-truths and outright lies... People Love Dead Jews reminds us that Jewishness is not a museum, a graveyard, or a heritage site but a lively ongoing conversation at a long table that stretches before and behind us. Come out of hiding, Horn urges us, it's time to take part in Jewish life." — David Mikics, The Tablet
"People Love Dead Jews is an outstanding book with a bold mission. It criticizes people, artworks and public institutions that few others dare to challenge." — Yaniv Iczkovits, The New York Times Book Review
"This is a beautiful book, and in its particular genre—nonfiction meditations on the murder of Jews, particularly in the Holocaust, and the place of the dead in the American imagination—it can have few rivals. In fact, I can't think of any." — The Wall Street Journal
"A superb new essay collection… Horn comes at her subject with a deep grasp of history and a personal commitment to the living Jewish tradition, with an acerbic sense of humour that pops out now and then — and also, refreshingly and necessarily, with anger." — Matti Friedman, UnHerd
""Dara Horn's People Love Dead Jews [is] an essential sequel to David Baddiel's Jews Don't Count" " — Simon Schama, via Twitter
"In a series of striking essays, Horn explores how the ways we commemorate antisemitism and Jewish tragedy distract from the very concrete, specific death of Jews. She wants a more direct reckoning with Jew hatred and its consequences." — 100 Notable Books of 2021, The New York Times
Awards
Shortlisted — Kirkus Prize for Nonfiction, 2021