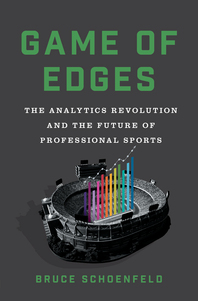 Game of Edges
The Analytics Revolution and the Future of Professional Sports
Description
The story of how a new generation of tech-savvy franchise owners is reshaping every aspect of professional sports
In the last two decades, innovation, data analysis and technology have driven a tectonic shift in the sports business. Game of Edges is the story of how sports franchises evolved, on and off the field, from raggedly run small businesses into some of the most systematically productive companies around.
In today's game, everyone from the owners to the marketing staff are using information—data—to give their team an edge. For analysts, an edge is their currency. Figuring out that bunting hurts your offence? That's an edge. So is discovering metrics that can predict the career arc of your free agent shooting guard. Or combing through a decade of ticket-buying data to target persuadable fans.
These small, incremental steps move a sports franchise from merely ordinary to the leading edge. Franchises today are more than just sports; they integrate a whole suite of other businesses—television and digital content, gambling and real estate, fashion and clothing, entertainment, catering and concessions and much more. But an optimised franchise has no room for error. Teams must do what the numbers say, reducing the element of chance, limiting those random moments of athletic heroism that make sports thrilling to watch. Optimisation also means the franchise's main goal isn't championships anymore; it's keeping you, the viewer, engaged with the product.
Drawing on extensive interviews with franchise owners, managers, executives and players, Bruce Schoenfeld introduces dynamic leaders who are radically reimagining the operations of these decades-old teams—and producing mind-boggling valuations. He joins the architects of the Golden State Warriors dynasty for an exclusive reception before tip-off. He stands among the faithful at Anfield, watching Liverpool's analytics guru size up a prized midfielder. And he watches the president of the Chicago Cubs break ground on a new DraftKings gambling parlour at Wrigley Field, not ten miles from the site of the original Black Sox betting scandal.
Essential reading for anyone interested in sports, business or technology Game of Edges explores a world where winning the game is only the beginning.
Reviews
"Fascinating... Schoenfeld is a canny storyteller, and his portraits of the big beasts (and the almost-rans) are vivid." — Chris Stoel-Walker, New Scientist
"[Game of Edges is] a panoramic, intercontinental tour of sports' newest battlegrounds: the executive suites perched high above the playing fields and the data rooms buried beneath them, where true success is measured not in wins but dollars. Buoyed" — Ben Reiter, The New York Times best-selling author of Astroball
"A superb storyteller, Bruce Schoenfeld is the master of finding—and then explaining—the secret dynamics of sports. Exquisitely readable and expertly reported, Game of Edges is a joy—though it ought to come with a warning label: fans will never view sports the same way again." — L. Jon Wertheim, 60 Minutes correspondent and coauthor of Scorecasting
"Meticulously researched and beautifully written, Game of Edges delivers a sweeping look at one of the most significant developments in worldwide sports: the new generation of investors fueling the stratospheric rise in the value of pro sports franchises. Bruce Schoenfeld has written a story rich in detail, taking readers into the boardrooms and brainstorming sessions of the teams they love. To read this book is to understand the intriguing dynamics of global sports as they exist today, while peering into their fascinating but uncertain future." — Christine Brennan, USA Today columnist and best-selling author of Inside Edge