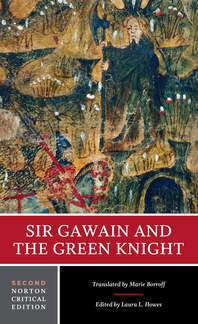 Sir Gawain and the Green Knight
Second Edition
12 March 2021
Description
This Norton Critical Edition includes:
Marie Borroff's acclaimed verse translation, marginal glosses and explanatory footnotes.
Laura L. Howes's full introduction along with Borroff's seminal essay, "The Metrical Forms" as well as her "Translator's Note".
For comparative study and classroom discussion, two French tales of Sir Gawain, four selections from the original Middle English poem and a passage from the Alliterative Morte Arthure.
Nine critical essays on the poem's central themes, four of them new to the Second Edition.
A chronology and a selected bibliography.

About the Series
Read by more than 12 million students over fifty-five years, Norton Critical Editions set the standard for apparatus that is right for undergraduate readers. The three-part format—annotated text, contexts and criticism—helps students to better understand, analyse and appreciate the literature, while opening a wide range of teaching possibilities for instructors. Whether in print or in digital format, Norton Critical Editions provide all the resources students need.
Reviews
"Almost lost to the ages, now surviving in but one faded, precious, manuscript, Sir Gawain and the Green Knight calls forth with exceptional brilliance and mordant precision a chthonic force rarely investigated in other works of the later Middle Ages. Unquestionably, this poem would have been challenging even to its first readers in the turbulent fourteenth century, and so the present volume brings to bear all the advantages of the Norton Critical Edition format—superlative translations, comparative source and background texts, and landmark critical studies—to facilitate an access made even more challenging (but no less enticing) by the passage of centuries." — Stephen H. A. Shepherd, Loyola Marymount University