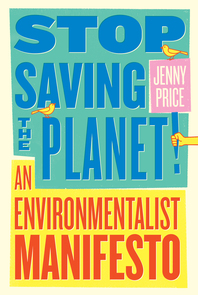 Stop Saving the Planet!
An Environmentalist Manifesto
Description
A short, fun, fierce manifesto for a fairer, more effective environmentalism (with a lot less shopping!).
We've been "saving the planet" for decades now and the crises have only got worse. Many of us—environmentalists included—continue to live deeply unsustainable lives. At home, affluent citizens "buy green"; while at work, they maximise profits with dirty energy and toxic industries that are poisoning poorer communities.
With brevity, humour and plenty of attitude, Jenny Price tracks "save the planet" enthusiasm through strategies that range from ridiculously ineffective (Prius-buying and carbon trading) to flat-out counterproductive (greenwashing and public subsidies to greenwash). We need to imagine far better ways to use and inhabit environments. Why aren't we cleaning up the messes we've already made? And why do so many people hate environmentalists? Price offers trailblazing answers, along with powerful ideas for how to divest from self-destruction and invest in mutual survival.
Reviews
"We just love Jenny Price's new book… With robust humour, she asks how we choose the changes we make. The answers might just make a difference to all our futures." — The People's Friend