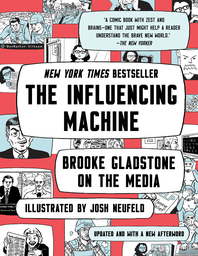 The Influencing Machine
Brooke Gladstone on the Media
Updated Edition
March 2021
Territory Rights — Worldwide including Canada, but excluding the British Commonwealth.
Description
New York Times Bestseller
With a New Afterword

"A comic book with zest and brains—one that just might help a reader understand the brave new world." —The New Yorker
A million listeners trust NPR's Brooke Gladstone to guide them through the complexities of the modern media. Bursting onto the page in vivid comics by acclaimed artist Josh Neufeld, this brilliant radio personality guides us through two millennia of media history, debunking the notion that "The Media" is an external force beyond our control and equipping us to be savvy consumers and shapers of the news. An invaluable introduction to how the media works from one of the acknowledged masters of the industry, this tenth anniversary edition brings the story up to date, with new illustrations and an afterword that offers a deep examination of the rise of social media and the public's responsibility in a time of division and disinformation.
Reviews
"[A] masterpiece." — The Atlantic
"Like Malcolm Gladwell or Michael Lewis or Michael Pollan, Brooke somehow takes a subject most of us don't give a damn about and makes it completely entertaining." — Ira Glass, host of This American Life
"Brooke Gladstone's text and Josh Neufeld's images illuminate one another with crackling wit and intelligence." — Alison Bechdel, author of Fun Home
"A first-rate comics manifesto. The Influencing Machine has influenced me to think much more deeply about the media landscape we live in." — Scott McCloud, author of Understanding Comics
"A great book." — Stephen Colbert
"It's easy to imagine The Influencing Machine becoming mandatory reading in journalism classes around the country." — Philadelphia Inquirer